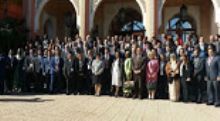 The 11th TPO Network World Conference and Awards (WTPO) was hosted by Maroc Export under the high patronage of King Mohammed VI, in partnership with the International Trade Centre (ITC). The event took place in Marrakech, Morocco, on 24-25 November 2016.
The WTPO Conference is the ultimate global event for Trade Promotion Organisations (TPO), which brings together approximately 200 renowned TPO representatives at a national and regional level as well as other organisations involved in trade promotion.
The focus is on addressing the future of trade and investment promotion and examining the evolution of trade and investment promotion and the growing importance of Africa as the next big global pole of growth.
More than 80 countries were represented at the conference. A high presence from African trade and investment bodies shows the diversity of interest in new trade trends as well as a particular focus on the continent.
The event explores how these agencies can help connect dynamic small and medium-sized enterprises (SMEs) to regional and global markets.
24 – 25 November 2016
Marrakech, Morocco